Waiting on Wednesday
is a weekly event hosted by Jill at
Breaking the Spine
and spotlights upcoming releases that we're eagerly anticipating.
My pick this week: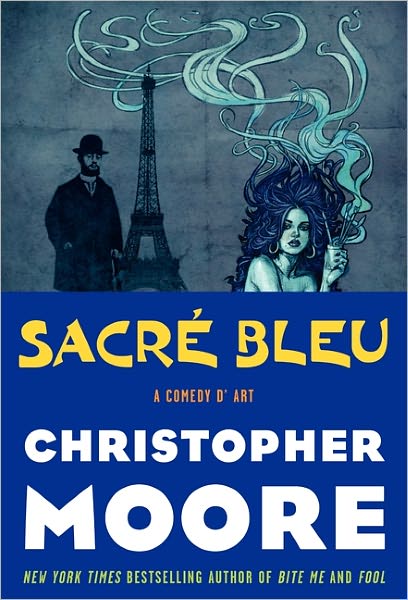 Sacré Bleu: A Comedy D'Art
Christopher Moore
Release date: April 3 2012
HarperCollins
It is the color of the Virgin Mary's cloak, a dazzling pigment desired by artists, an exquisite hue infused with danger, adventure, and perhaps even the supernatural. It is…

Sacré Bleu.

In July 1890, Vincent van Gogh went into a cornfield and shot himself. Or did he? Why would an artist at the height of his creative powers attempt to take his own life… and then walk a mile to a doctor's house for help? Who was the crooked little "color man" Vincent had claimed was stalking him across France? And why had the painter recently become deathly afraid of a certain shade of blue?

These are just a few of the questions confronting Vincent's friends – baker-turned-painter Lucien Lessard and bon viviant Henri Toulouse-Lautrec – who vow to discover the truth about van Gogh's untimely death. Their quest will lead them on a surreal odyssey and brothel-crawl deep into the art world of late nineteenth-century Paris.
Another graphic novel! I am a huge fan of graphic novels and I came across this book when surfing the net for new graphic novels that are up for release. The title immediately grabbed my attention because the French language fascinates me (mainly because I don't speak it!) as well as art. The cover grabbed my attention because it's, well, incredibly blue and blue is one of my favourite colours.
I also love mysteries, so the mysterious aspect of this book really sparks my interest. I like how the synopsis asks questions, they're quite thought-provoking. I will definitely be getting my mits on this book when it comes out!
What are you waiting on?
Leave me a link to your post and I'll drop by!