It's October, which means that Halloween is on its way! I've always enjoyed the fun surrounding Halloween but I never really celebrated it 'properly'. Every year in my house, we close the curtains, lock the door and pretend that we're not home. And when I was a child, I had to go to a reform Halloween party in the local church where you could only arrive dressed as someone from the Bible. Yeah. When you're five and not from a Christian family, you only know the Christmas story and Noah's Ark. Everyone was either an angel or a shepherd. They all hate Halloween at that church now.
Anyway, because I'm feeling generous I'm going to host a giveaway! Yay! Since it's Halloween, I've themed the giveaway around horror, hence the name "Creature Feature" and the fact that Boris Karloff is on the banner and the button. You know, the guy who played Frankenstein's Monster (he also narrated How The Grinch Stole Christmas, but that's the wrong time of year). I was going to put Béla Lugosi's Dracula on it, but I couldn't find a picture that was good enough.
Giveaway Details
One winner will win a horror book of their choice
Giveaway will end October 31, 2012
Use the Rafflecopter to enter
Grab a button!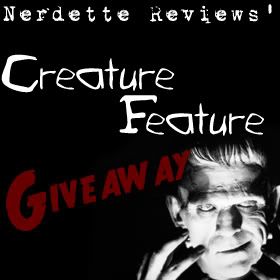 a Rafflecopter giveaway
Good luck and have a happy Halloween!