I haven't done a tag post in a million years, but I did see this tag on
Caro's blog
, and I thought that this would be pretty fun for me to do, even though I technically have not been tagged. But technically not being tagged has never stopped me from doing a tag post before. Especially one where I don't have to make up questions of my own.
Although I do frequently talk about things other than books on this tag, I quite like the idea of talking about non-bookish things that are also not movies or TV, because it's obvious that I like those things too. Plus, I have a chance to bemoan the lack of GIFs I've been making.
1. Name a cartoon you love(d).
I am still a huge cartoon lover, so it's difficult for me to pick just one, but I will have to go with The Simpsons. There was a point in my life where I would watch The Simpsons every single day without fail, and though I don't do that anymore, I could still easily watch it every day. I have attempted to marathon the series a few times but it's nigh-on impossible because there are over 600 episodes at this point and not every season is on DVD anymore, and we also don't have Disney+ in the UK yet, or whatever other streaming services it's on. But I do have season 1-12 on DVD which are the best ones, so I'm content to watch those all the time.
2. What is your favourite song right now?
Recently, I've been really into listening to Lana Del Rey's unreleased songs on YouTube because it's so interesting to hear how her sound has evolved since the mid-2000s. However, my absolute favourite song now is Purple Haze by The Jimi Hendrix Experience. There are two kinds of people in the world: people who understand how incredible a musician Hendrix was, and people who are in denial.
3. What could you do for hours that isn't reading?
I can easily play video games for hours, especially any of the Pokemon games. I've recently been playing Pokémon Shield and I've both beaten the game and got my entire team to level 100. Now I just need to complete the PokéDex but the way that the trading system has been changed has made this so much more difficult. I loved the GTS system from the previous games because you could just put a Pokemon into it and state what you wanted in return, rather than sifting through five jillion link trades where you don't get anything because it is impossible to tell someone what you want without giving the Pokémon you've traded a nickname. Wah. If you have Switch Online and Pokemon and want some help with filling up your PokéDex, you can always give me a bell and ask to trade!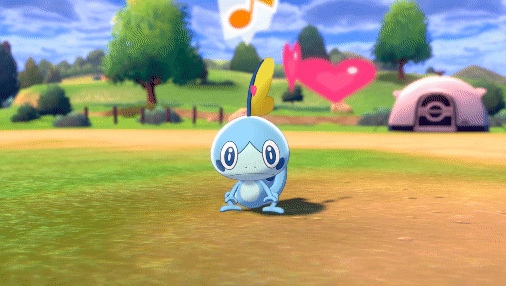 4. What is something you love to do that your followers would be surprised by?
I absolutely love teddy bears. Really. It is totally possible to like dark, sad movies and books and also love soft things like teddy bears at the same time. I mean, look: I have a Build-a-Bear dog that's dressed as Batman.
He's adorable, and the pockets on the belt actually open. Now I want a Wonder Woman and a Superman, but Build-a-Bear don't have Superman outfits anymore.
5. What is your favourite unnecessarily specific thing to learn about?
For some reason, I really love learning about controversial media, especially things that were banned or cancelled for either understandable or bizarre reasons. I don't really have any intentions of watching things that have been banned or cancelled for being controversial, but it is always interesting to see what censorship laws are like in other countries.
6. What is something unusual you know how to do?
Does GIF-making count as unusual? Because I know how to do that. I'm not the best at it because I just capture the frames and then put them together with some words on them, but it's still a little impressive.
7. Name something you made in the last year if you can.
I recently learnt how to make gingerbread, which was surprisingly easier than I'd expected, especially since I can make it from scratch instead of using a box mix. I've only made it twice now for special occasions, but I've received a lot of praise for my gingerbread cookies so I guess I'm a whiz at gingerbread making now.
8. What is your most recent personal project?
I haven't had a personal project for a long time, but I am trying to get back into making GIFs. I have tons of SpongeBob GIFs that I planned to make a long time ago but I barely made a dent in the list. Hopefully, I can get back around to it this year and finally finish making them.
9. Tell us something you think about often.
Can you blame me? Who doesn't think about Keanu often? Look at him, he's beautiful.
10. Give us something that is your favourite.
See the above.
11. Say the first thing that pops into your head.
Milk
What are some of your non-bookish hobbies?